Elegance. Perfomance. Precision.
The collection dates back to the beginnings of B&O and Ferrari. The founders, Enzo Ferrari, Peter Bang and Svend Olufsen, were visionaries who redefined their respective industries by challenging the status quo. Their legacy runs like a red thread through the decades and helps both brands to new heights to this day.
The combination of premium performance, graceful aesthetics and meticulous craftsmanship has brought B&O and Ferrari together to co-develop this collection. Add to that the unmatched legacy of both brands, which makes this collaboration an unforgettable event.
Both brands have been at the forefront of innovation for over half a century. Bang & Olufsen has been shaping the global landscape of sound and image technology from Struer in Denmark since 1925, and Ferrari has been shaking up the automotive industry from Maranello in Italy since 1947. The two brands have brought more than 150 years of innovation to this collaboration.
The collection is a departure from Bang & Olufsen's traditional approach, explains Christoffer Poulsen, senior vice president of business development and strategic partnerships at Bang & Olufsen: "Our classic loudspeakers are designed to fit naturally into people's homes and at the same time through them beautiful design stand out. This collection is different. These are real statement pieces. Similar to upercars, they ensure that you see and hear them everywhere."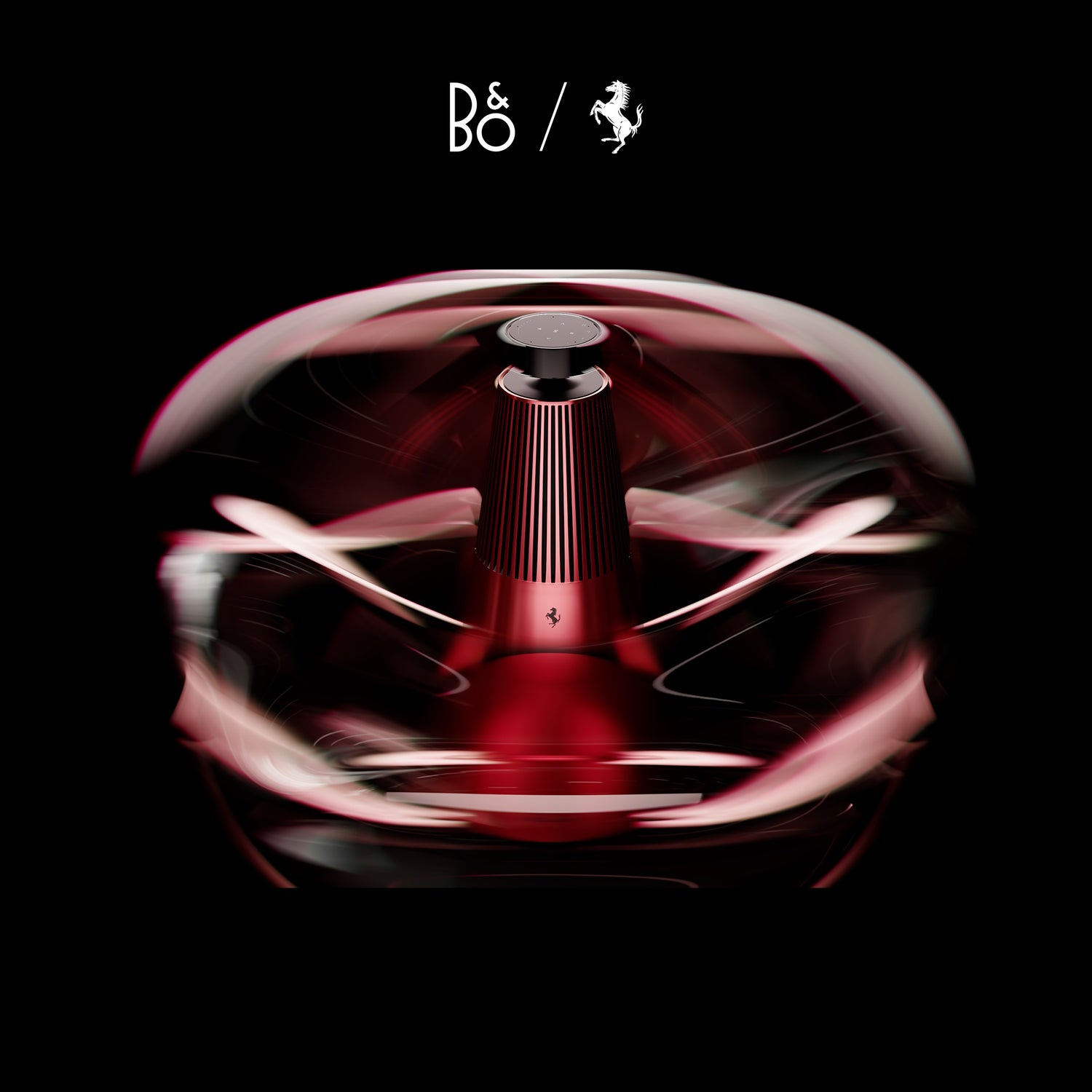 BeoSound 2 3rd. Generation
Beosound 2 offers a 360-degree home audio experience that fills any room it is placed in. Its design is flexible enough to be placed on the floor, on a table or on a shelf. In addition, it is easy to move from one room to another. Active RoomSense and built-in proximity sensors combine the beauty of Beosound 2 with smart technology. A high quality aluminum cone surrounding the speaker ensures a flawless appearance and premium sound quality.
The Ferrari Collection Beosound 2 is anodised at Bang & Olufsen's Factory 5 in Struer, reinterpreting its design in Ferrari's signature red. The aluminum body is polished to a high gloss, which makes the red color even more intense. The legendary Ferrari badge is located under the speaker grille and completes this edition.
BeoSound 2 - Limited Ferrari Edition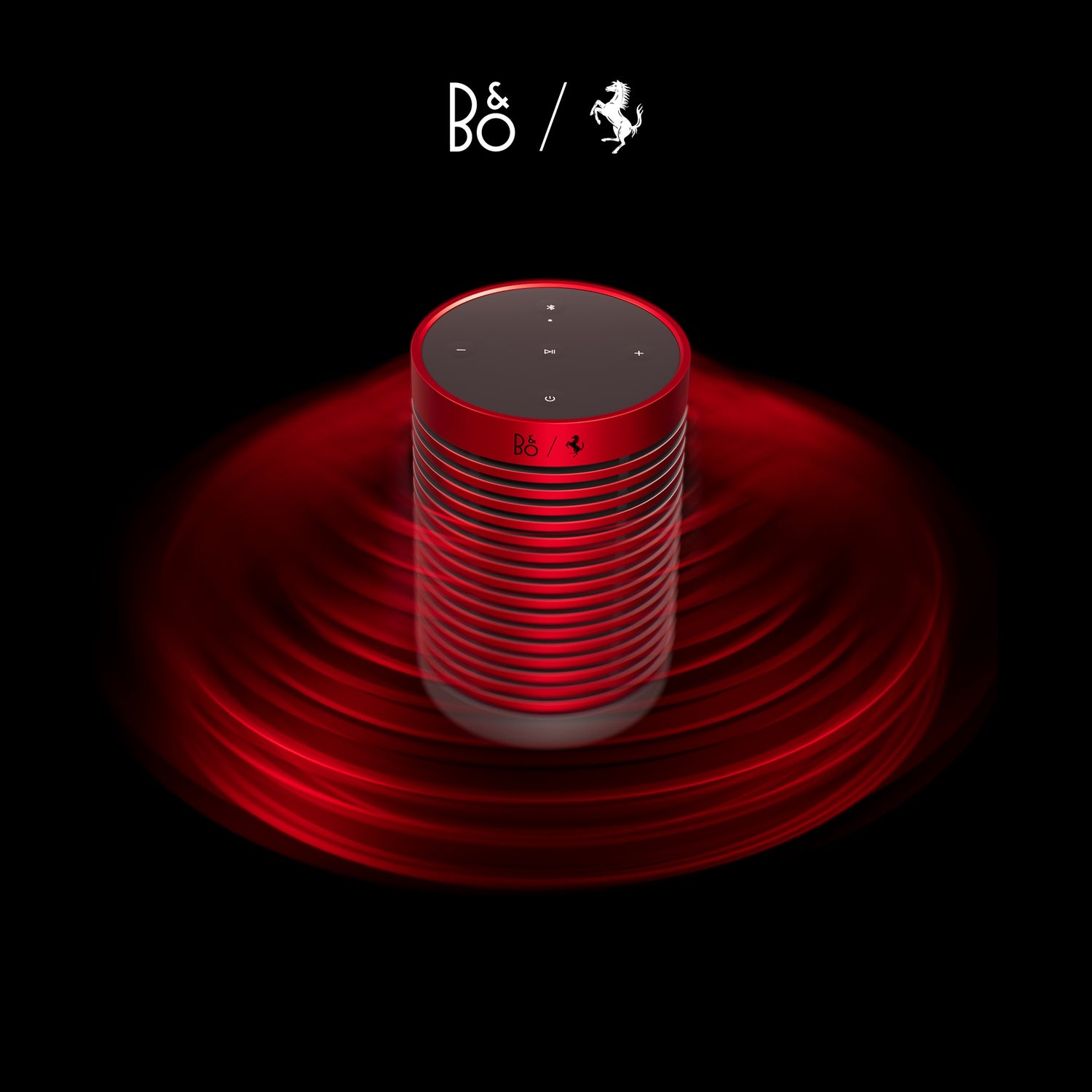 BeoSound Explore
The Beosound Explore is a portable speaker perfect for outdoor use. It has protection class IP67, i. H. it is dust and waterproof and can therefore be taken anywhere. Thanks to Bluetooth and fast pairing, music is just a touch away and can be enjoyed all day long with up to 27 hours of playback time.
The Beosound Explore is now ready for any adventure with the laser engraved Ferrari Prancing Horse and a striking black carabiner. The speaker's two-layer housing is anodized in red and black so that the speaker grille immediately stands out from the dark interior.
BeoSound Explore - Limited Ferrari Edition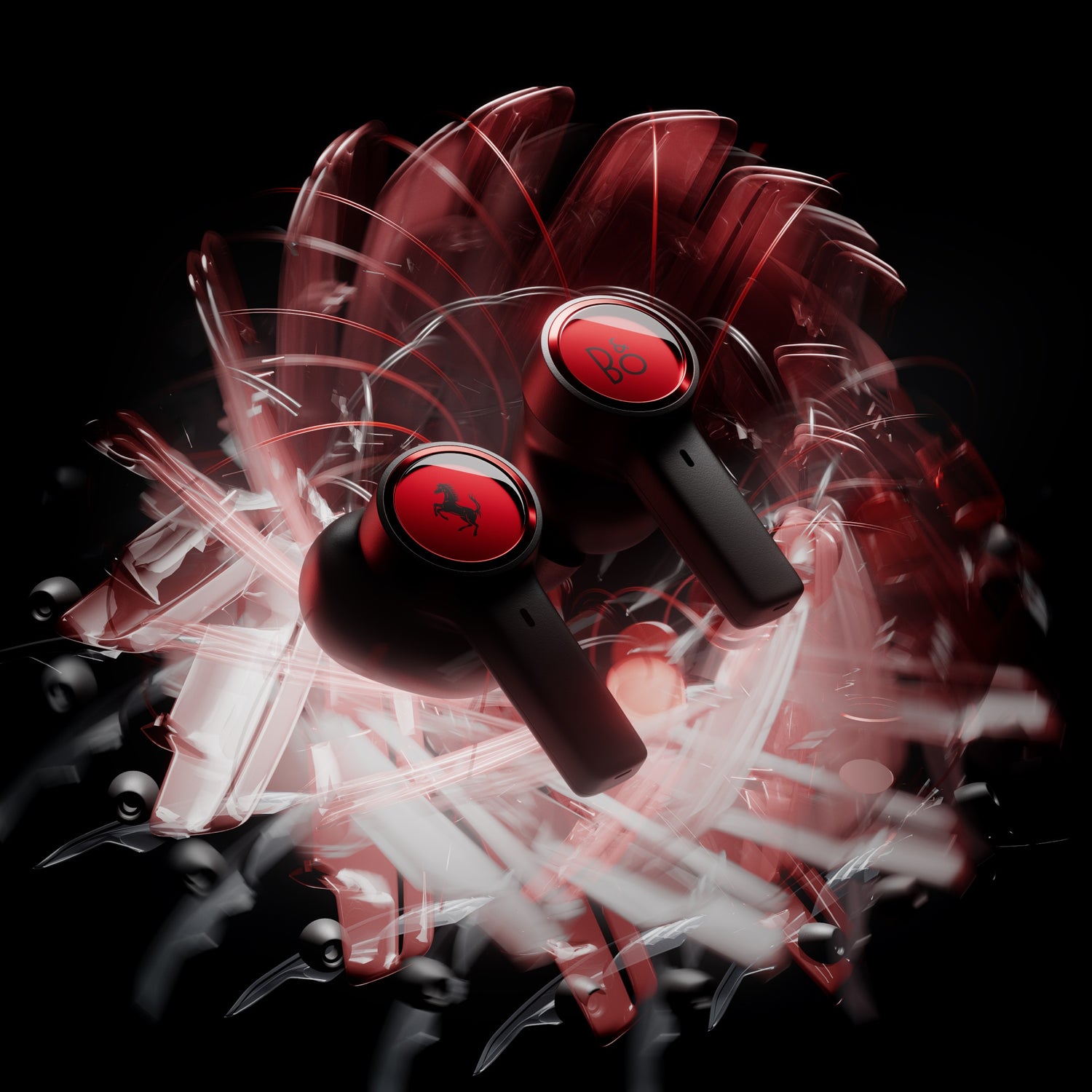 BeoPlay EX
Beoplay EX are Bang & Olufsen's most powerful true wireless headphones. It convinces with active noise cancellation, unmatched sound and comes with a wireless charging cradle for up to 20 hours of music enjoyment on the go. Thanks to the six microphones and the intelligent beamforming technology, the Beoplay EX can be used for business calls as well as for listening to music.
The Ferrari Collection features a striking black foiled Ferrari Shield logo beneath a glass cast in the iconic shade of red, ground and polished to create a mirror-like shine on the right earphone.
BeoPlay EX - Limited Ferrari Edition