LuxusSound is Germany's leading online store for Bang & Olufsen products. Germany's largest Bang & Olufsen dealer, Klang & Design GmbH & Co. KG, was founded in Karlsruhe in 2000. As one of Germany's leading Bang & Olufsen partners, we know how to transform living rooms and other places into worlds of experience. In addition, we offer you a customer service that is second to none. Sound advice, installation of products, after sales service and detailed answers even before you have questions.
Transforming a room sometimes requires a bit more than just an audio or video system. We'll be happy to pay you a visit to decide with you on site where the individual components should be set up. Or to assess how the different surfaces reflect the sound, which speakers complement your TV perfectly, which subwoofer fits best with which system and to merge your home entertainment with the home automation system imperceptibly and thereby achieve maximum comfort.
Every little detail.
Excellent home entertainment and modern home technology go hand in hand. Because only the right lighting mood and the right room atmosphere turn movies and music into a comprehensive experience. The perfect complement to Bang & Olufsen systems is smart home technology from Busch-Jaeger, the comprehensive solution for your entire home technology.
We plan the appropriate technology in advance in joint communication with your electrician, so that cables can be laid under plaster, in the floor or in the ceiling. Bang & Olufsen is a partner of architects. Point this out to your planner and use Bang & Olufsen technology and service. We have set ourselves the goal of responding precisely to your wishes through competent advice and individual service, and of fulfilling them quickly and consistently.
We support you in your construction planning!
Welcome to the Bang& Olufsen Flagshipstore Berlin - the largest in Europe.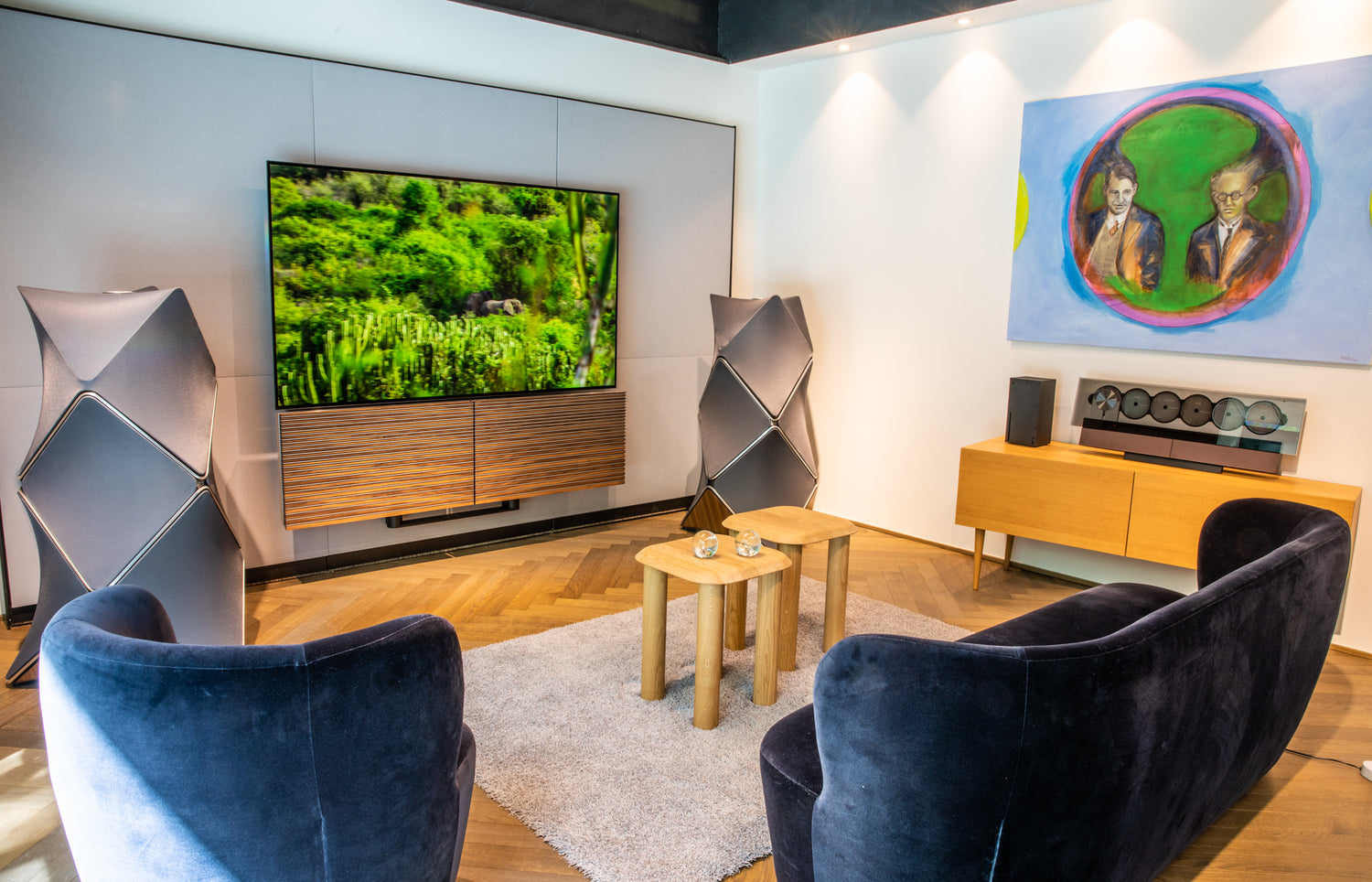 Let us take you away and experience the whole world of Bang & Olufsen in a pleasant atmosphere. Discover the unique combination of sophisticated design, the highest quality standards and an incomparable, surprising ease of use.
Of course, it is difficult to put the fascination of Bang & Olufsen into words. To really enjoy with all your senses and understand the quality of our products, you have to experience us live. Just drop by the largest, most beautiful and most modern BANG & OLUFSEN store in Europe, at Living Berlin. We offer you an extraordinary shopping experience. Our store at LIVING BERLIN now offers you even more diverse opportunities to experience the fascinating world of B&O.
Benefit from over 25 years of B&O experience of our team!
Over the last few months we have completely redesigned and rebuilt everything to create the ideal environment for you to see, hear, touch and feel our products.
We are particularly proud that we can present the full range of Bang & Olufsen products in all available colors ready for demonstration. This gives you the opportunity to experience your favorites "live" in terms of picture, sound and feel - and at the same time all possible alternatives. Accompanied by our usual expert advice, you will find the complete world of B&O experience, from compact in-ear headphones to multi-room audio and TV solutions for your home.
Immerse yourself in a world full of details.
From exclusive fabrics and colors to unique finishes, laser engraving and more, Bang & Olufsen brings its renowned craftsmanship and uncompromising standards to your vision.
We're a certified Bang & Olufsen BeSpoke Store - one of only 5 in the world - and we work with you every step of the way, giving you access to our world-leading team of designers, engineers and craftsmen. You contribute the idea and we take care of the rest.
more about BeSpoke
This is how you reach us...
Bang & Olufsen at Living Berlin

Opening hours

Monday: 10:00 - 19:00
Tuesday: 10:00 - 19:00
Wednesday: 10:00 - 19:00
Thursday: 10:00 - 19:00
Friday: 10:00 - 19:00
Saturday: 10:00 - 19:00
Sunday: closed

We will be happy to visit you at your premises outside opening hours.
Welcome to the Bang & Olufsen Berlin Service Point
Since 2004, the employees of Klang & Design GmbH & Co. KG in Berlin-Treptow passionately take care of everything that happens behind the scenes.
The managing director, Mr. Axel Winkel, opened his first Bang & Olufsen Monobrand Store in Bad Homburg more than 20 years ago, on 15.09.2000. Due to the massive success, thanks to good quality and a great vision, the company expanded rapidly - At its peak, Klang & Design operated seven monobrand stores.
In the context of strategic reorientation - class instead of mass - one separated in the year 2020 from a group of companies to which one belonged in the meantime, and put the focus with 110% on Berlin and Brandenburg.
In the Servicepoint, the center of Klang & Design, the employees take care of the concerns of our customers.
Here, in the areas of accounting, marketing, warehouse, technology and management, work hand in hand to provide you permanently the qualitative service that you are accustomed to.

Klang & Design has been a certified Bang & Olufsen service partner since 2004 and also operates its own workshop. Our knowledgeable, motivated and friendly team of consultants and technicians are specially trained in digital media and are happy to answer any questions you may have about the B&O product range as well as home automation. Just ask us.
Bang & Olufsen Servicepoint

Klang & Design GmbH & Co. KG
Bouchéstr. 12 (Haus 2)
12435 Berlin
Germany
+49 (0) 30 - 53 02 39 90
info@LuxusSound.com

Opening hours

Monday: 10:00 - 16:00
Tuesday: 10:00 - 16:00
Wednesday: 10:00 - 16:00
Thursday: 10:00 - 16:00
Friday: 10:00 - 16:00
Saturday: closed
Sunday: closed

We will be happy to visit you at your premises outside opening hours.